Former governor Mikheil Saakashvili forces entry to Ukraine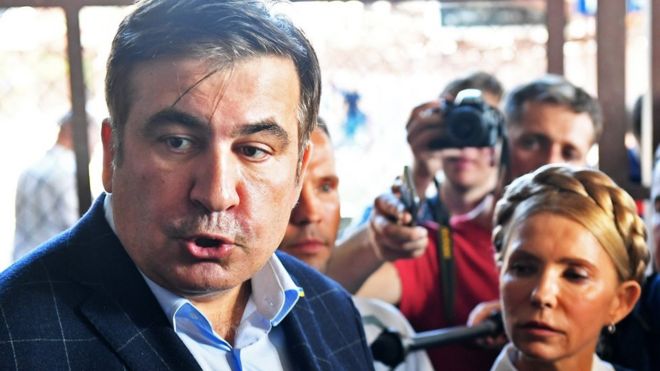 Image copyrightAFP Image captionMikheil Saakashvili and former PM Yulia Tymoshenko had got off the train after it was stopped in Poland
Mikheil Saakashvili, the former president of Georgia and one-time governor in Ukraine, has crossed into Ukraine, helped by hundreds of his supporters.
The train carrying Mr Saakashvili had been stopped on its way into Ukraine from Poland as Ukrainian border guards denied him entry.
According to Russian media reports, his supporters encircled Mr Saakashvili.
The group, including MPs, reportedly broke through a line of border guards.
But Ukrainian MP Ivan Krulko said the Ukrainian guards had allowed Mr Saakashvili to enter the country.
Mr Saakashvili, formerly Georgian, then Ukrainian, is now a stateless person, as his Ukrainian citizenship was stripped by his former ally, President Petro Poroshenko, after a falling out.
He is also wanted in Georgia on criminal charges, which he claims are politically motivated.
Earlier on Sunday, his train was held at a railway station in Przemysl, Poland.
He told journalists that he would travel on to the border.
It is not clear who ordered the train to be stopped. AFP news agency quoted the operator of the train as saying she had been ordered by the authorities, but declined to specify whether they were Polish or Ukrainian.
Mr Saakashvili was joined by a number of his supporters, including former Ukrainian Prime Minister and current opposition leader Yulia Tymoshenko.
Deportation threat
Mr Saakashvili, who was born in Georgia, said he wanted to return to his adopted Ukraine to contest President Poroshenko's
decision to strip him of his citizenship
in July while he was out of the country.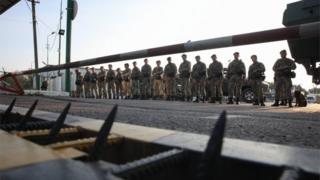 Image copyrightEPA Image captionAt the Medyka crossing with Poland, this line of border guards were waiting on the Ukrainian side
In 2015, he was appointed governor of Odessa by Mr Poroshenko, but the two fell out last November after Mr Saakashvili accused the president of blocking efforts to stop corruption.
But in accepting Ukrainian citizenship,
he surrendered his Georgian citizenship.
"The reality is for me today that the Georgian passport means guaranteed imprisonment for me in Georgia," he told the BBC at the time.
Once in Ukraine, he could possibly be arrested and deported to Georgia to face charges, the BBC's Europe Regional Editor, Danny Aeberhard, said.
But Mr Saakashvili has been adamant about his return to rally political supporters, having
announced his return to the country as far back as July
.
Ukraine is a signatory to the UN Convention on the Reduction of Statelessness, which prohibits the withdrawal of citizenship when doing so would result in a person becoming stateless.
Exceptions exist in limited circumstances such as fraud or disloyalty to the state, though it is not clear if either apply in Mr Saakashvili's case.
Ukraine's migration service said the president takes decisions on who is stripped of Ukrainian citizenship based on the conclusions of the citizenship commission.
It did not provide the exact reason, but stated that this could be done if a Ukrainian national acquired citizenship of another country or submitted false documents.