You can see from this YouTube video that the damage is FAR worse than the "minor damage" the Armenian Church's Diocese of Syria claims (not that unexpected though - Armenian Church statements concerning Syria seem to be full of "nothing to worry about"). The video doesn't show the condition of the museum in the crypt of the monument.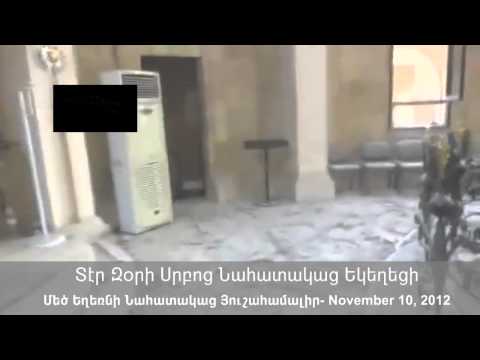 California Courier Online, November 22, 2012
Shelling Damages Armenian Genocide Memorial Church, Museum in Der Zor
DER ZOR, Syria - The Armenian Genocide Martyrs Memorial Church in Der Zor,
also known as the Holy Martyrs Armenian Church, has been damaged as a
result of nearby shelling, as revealed by video footage taken by locals and
shared on YouTube last week.
The Armenian Diocese of Syria reported that the Memorial was not directly
targeted by the shelling, but suffered the damages due to shelling nearby
in the town, some 450 kilometers northeast of Damascus.
Jirair Reisian, a spokesman for the Syrian diocese, told RFE/RL's Armenian
Service on Monday that early media reports claiming that the complex in
Deir ez-Zor immortalizing the memory of hundreds of thousands of Armenians
killed during the Ottoman-era death marches through a Syrian desert, had
collapsed under bomb shelling and explosions were inaccurate.
At the same time, he acknowledged some minor damage caused to the Holy
Martyrs Memorial Complex and a nearby chapel in the town some 450
kilometers to the northeast from capital Damascus during some recent
fighting.
`During the military operations some buildings near the Armenian monuments
indeed were damaged, but the Armenian church has never been a target,'
Reisian emphasized.
`Some stones came off the nearby buildings as a result of shootings and
explosions and broke some of the church glass,' he added.
After telephone talks with the Syrian Armenian Diocese, Catholicos Aram I
of Antelias stated the Der Zor Memorial will be repaired only after the
restoration of security there.
Der Zor has witnessed clashes between the rebels and the Syrian Army since
the beginning of the armed conflict in the country. The few Armenian
families living in the city left months ago.
Hundreds of thousands of Armenian deportees were massacred in Der Zor in
the summer of 1916. The memorial was consecrated in 1991.