SECOND ANNUAL HYECLUB FORUM AWARDS
January 6, 2010
Testing...1...2...oh, it's on
. Greetings ladies and gentlemen and welcome to the Second Annual HyeClub Forum Awards. Tonight is the night you have all been waiting for. Here is the forum's Christmas gift to you all!
BEST THREAD
…and the winners are…
Armenia and the information war and Nagorno-Karabagh: Military Balance Between Armenia & Azerbaijan!
These two politically-driven threads dominated this year's voting, leaving last year's winner Ankap! and its runner-up Rise of the Russian Empire in the dust. A round of applause to both Federate and ZORAVAR for creating these two threads that have attracted hundreds of posts and tens of thousands of views.
Armenia and the information war is a thread devoted to exposing the misinformation that Azerbaijan, Turkey and its allies have spread throughout the Internet and the media about Armenia and to help Armenians become aware of this.
Nagorno-Karabakh Military Balance analyses the strengths of Armenia's, Artsakh's and Azerbaijan's militaries while they re-train and re-supply their forces as they work to find a solution to the frozen conflict known as the Artsakh war. It prominently features our local military expert and creator of the thread ZORAVAR which has provided us with valuable information that is very hard to find anywhere else.
---
MOST PATRIOTIC POSTER
…and the winner is…
FEDERATE!
Runner-ups: Anoush and Hellektor
Federate wins this one in a landslide. His heart is simply devoted to Armenia and the Armenian Cause, people. Lovely Anoush and fiery and passionate Hellektor take second place in a tie.
---
MOST CONTROVERSIAL POSTER
…and the winner is…
BELL-THE-CAT!
Runner-up:arabaliozian
Initially Bell and ara were tied but a last minute voter broke the tie and Bell took it. Bell-the-cat has been banned on this site before and that's just one of the factors that add to his controversy. He has been involved in many disputes with a wide-array of users revolving around Armenian history and has been critical of the approaches Armenians take in general. These have often ended up in flame wars. He was notably involved in a dispute with self-exiled member Armenian in the Armenology thread.
---
MOST HELPFUL POSTER
…and the winner is…
FEDERATE!
Runner-ups: Siggie
Federate is always one that is ready to answer your questions about anything or to guide new users and welcome them to the forum. He has also devoted many hours into helping Armenians improve their mother language. I am sure he is very happy to accept this award.
---
MOST RANDOM POSTER
…and the winners are…
FREAKYFREAKY and PEPSIADDICT!
freakyfreaky, a veteran member of HyeClub, took home his first award with his contributions to Ankap! and his undying love to the colour green. He takes this award with PepsiAddict always seems to chime in with news and facts that are completely useless.
---
---
MOST LIKELY TO BE A BOT
…and the winner is…
PEPSIADDICT!
Runner-ups: CRDA-FRANCE
After this win, PepsiAddict should start working for Yahoo News in the celebrity deaths section.
---
POSTER YOU MOST WANT TO HANG OUT WITH
…and the winner is… well we have a multiple way tie so i'll just go ahead and declare that the winner is...
EVERYONE!
It seems that our members just love everyone else SO much that they all want to hang out. HyeClub meeting, anyone?
---
AND NOW, LIVE ALL THE WAY FROM LA...SYSTEM OF A DOWN!
---
MOST UNDERRATED POSTER
…and the winners are…
ARA87 & ARMSURVIVAL!
Similar to last year, we have not one but TWO underrated members who co-win this award. Ara87's questions on this forum have led to very interesting threads, a notable one being about the borders of Nagorno-Karabakh.
As for ArmSurvival, this is his first ever award. He has enriched our forum with his excellent knowledge on the Armenian genocide and his analysis of Armenia's political affairs.
I hope this award gives out the recognition you two deserve, just like it did to last year's winners - Federate and jgk3.
---
LOOSE CANNON (VOLATILE)
…and the winner is…
CRIMSON GLOW!
Runner-up: Mukuch
Known more for his volatility in the chat under his nom de guerre
aperson
, Crimson Glow is another well-respected veteran of the forum that has made quite the impression on the rest of the members to win the award for this inaugural category.
---
COOL CUCUMBER (EVEN-TEMPERED)
…and the winner is…
JGK3!
Jgk3's master Yoda temperament coupled with his Zen-like calm has propelled him to his victory.
---
FUNNIEST POSTER
…and the winner is…
KANADAHYE!
KanadaHye has constantly brightened our days with his funny one-liners and his humouristic take on humanity's everyday lives. His sarcasm also never shies away from amusing us. Congrats KanadaHye, never take life too seriously
.
---
MOST INTELLIGENT POSTER
…and the winners are…
FEDERATE, JGK3 AND SIGGIE!
Having three winners for most intelligent poster is never a bad thing. For the first time in the history of the awards, we have a three-way tie for a category. Congratulations, nerds.
---
LEAST INTELLIGENT POSTER
…and the winner is…
PEPSIADDICT!
Unfortunately for PepsiAddict, he took this victory in a landslide in the most unanimous of the categories for which we are handing out our awards for. Pepsi has also retained his title as this is his second-straight year at the top (or bottom).
---
BEST AVATAR
…and the winner is…
FEDERATE!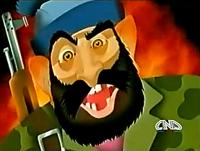 Federate takes this one with not much competition. The bearded, gap-toothed man in his avatar, which he claims to be a cartoon version of him, has surely been a hit.
---
WORST AVATAR
…and the winner is…
PEPSIADDICT!
Perhaps no one changes their avatar more than PepsiAddict and everyone has voiced their complaints through their votes. And now, PepsiAddict has posted the most ironic of avatars. Congratulations PepsiAddict, you have OBVIOUSLY deserved this award
---
AND NOW, LET'S ALL INVITE THE LEGENDARY HAROUT TO THE STAGE!
---
BEST THREAD CREATOR
…and the winner is…
FEDERATE!
Federate's threads include such hits as "
Armenia and the information war
", "
Genocides of Sumgait, Kirovabad, Baku and Maragha
", "
Georgian-South Ossetian conflict
" and "
Hezbollah
".
---
BEST USERNAME
…and the winner is…
iFEMALE!
iFemale has ingeniously merged Apple's brilliant "i" campaign with her gender to create the best username on this thread. She shall now be known as iFemale the Artist.
---
WORST USERNAME
…and the winner is…
NINETOYADOME!
Runner-Up: PepsiAddict
Though a regular and prolific poster of ours, it seems ninetoyadome's username is simply misunderstood. It's alright nine, i'm sure people will warm up to your username eventually
. On another note, Pepsi came close to winning his fourth award tonight but came just short as in the final minutes of voting, a user cast the tie-breaking vote.
---
BEST NEW POSTER
…and the winner is…
CATHARSIS!
Catharsis joined this past year and quickly made a big impact on the forum which his awe-inspiring analysis of the geopoliticals of the Caucasus and his excellent knowledge of Armenian history. Power to you, good sir and welcome aboard!
---
FUTURE OF HYECLUB FORUM
…and the winner is…
FEDERATE!
Federate wins his 6th award of the night. Even though he has been on the forum for more than a year now and has become a moderator, many think Federate will be here for many years to come.
---
MOST POPULAR POSTER
…and the winner is…
ANONYMOUSE!
For the second year in a row, Anonymouse takes the Most Popular Poster award! Anonymouse's loyal supporters still think he is the coolest guy evar!
---
BEST POSTER
...the award for Best Poster goes to…
FEDERATE!
Runner-Up:jgk3
It was a tight race with both jgk3 and Federate one-upping one another but in the end, Federate takes his record 7th award of the night! Congratulations to him!
----
I would like to thank everybody once again for joining us tonight.
Those who have been granted an award may propose a speech in this thread.
We hope you had a joyous night and we will see you all next year!