Re: Armenian Nature
Lake Sevan: Problems and perspectives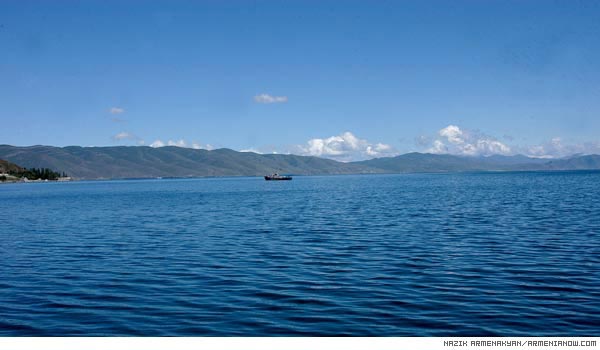 In 2009 Sevan's water level rose by 38 centimeters.
Netting all kinds of fish in Lake Sevan will be banned in the next 3-4 years in a bid to preserve species and maintain the ecology of the lake, said Vladimir Movsisyan, head of the president-affiliated commission on Lake Sevan problems, at a press conference Tuesday.
The chief problem of Lake Sevan, the largest body of fresh water in Armenia, was the sharp reduction of the water level, which began to lower in 1950 because of the excessive water drainage for energy needs and irrigation purposes. The lowering of the water level in the lake led to the disappearance of many fish species, swamping of near-shore areas with a real prospect of an environmental disaster. In the 1980s the drainage of water was considerably reduced and a 48-kilometer tunnel Arpa-Sevan was built to redirect some water from the river Arpa into Lake Sevan. Nevertheless, the current level of water in the lake is lower than its original one by 11 meters (the original level of the lake was 2,000 meters above sea.)
At the press conference Movsisyan summed up the results of the commission's activities in 2009 (the commission was set up in late 2008). The commission head reported that in 2009 Lake Sevan's water level rose by 38 centimeters and reached the level of 1,899 meters. The commission is looking to achieve the rise in the lake's water level to 1,903 by 2031, i.e. seeing the water rise by 20 centimeters a year.
According to Movsisyan, a total of 1,697 buildings and structures located along the lakeshore will be submerged by the rising water if the rise targets are met. Only 481 of these buildings are legally authorized constructions and their owners will receive compensation. The construction of the rest of the buildings was not licensed and they will be pulled down with no compensation paid.
Besides, said Movsisyan, a 15-kilometer section of a highway passing by the lake will also be submerged by the rising water. A total of 4.3 billion drams ($11.4 million) are expected to be allocated for building that section of the highway in another place.
According to the commission head, a total of 600 hectares of lakeside forests were cleaned in 2009 and 307,000 endemic trout fries were let into the lake for water purification purposes.
http://armenianow.com/social/20571/sevan_water_rise