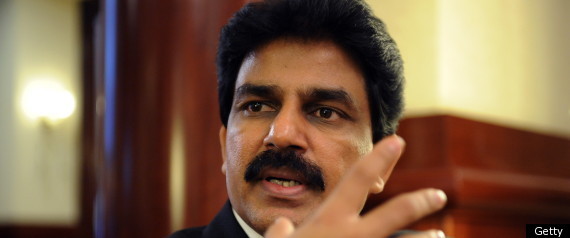 Pakistan's minister for minority affairs Shahbaz Bhatti gestures during an interview with Agence France-Presse (AFP) in Washington, DC, on February 5, 2010. (JE_WEL SAMAD/AFP/Getty Images)
Pakistani Minister For Minorities Killed In Gun Attack In Islamabad
First Posted: 03/ 2/11 02:17 AM Updated: 03/ 2/11 02:21 AM
March 2, 2011 6:47:13 AM
ISLAMABAD, March 2 (Reuters) - Pakistani Minister for Minorities Shahbaz Bhatti, who has been calling for changes in the country's controversial blasphemy law, was killed in a gun attack in Islamabad on Wednesday, a hospital official said.
Police said the shooting had taken place in an Islamabad neighbourhood and were still confirming whether Bhatti, the only Christian in the Pakistani cabinet, was the intended target.
The anti-blasphemy law has been in the spotlight since November when a court sentenced a Christian mother of four to death.
On Jan. 4 the governor of the most populous province of Punjab, Salman Taseer, who had strongly opposed the law and sought presidential pardon for the 45-year-old Christian farmhand, was gunned down by one of his bodyguards.
(Reporting by Zeeshan Haider; Editing by Chris Allbritton)
Link